About the SBI Group
About the SBI Group
The SBI Group is a major player in financial services, asset management, and biotechnology. In the financial services sphere, we provide financial products including securities, banking and insurance; in asset management, we provide services related to investment and asset management for ventures associated with IT, biotechnology, environmental / energy projects and finance both at home and abroad; and in biotechnology, we conduct business in the pharmaceutical, health food, and cosmetics fields globally.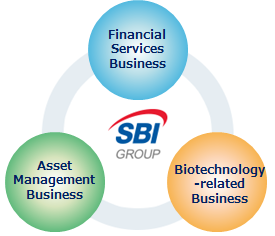 The SBI Group's Management Philosophies
Sound Ethical Values
We shall undertake judgments on actions based not only on whether they conform to the law or profit the Company, but also whether they are socially equitable.
Financial Innovator
We will transcend traditional methods and bring financial innovations to the forefront of the financial industry, by utilizing opportunities provided by the powerful price-cutting forces of the Internet and providing financial services that further enhance customer benefits.
New Industry Creator
We will endeavor to become the leader in creating and cultivating the core industries of the 21st century.
Continual Self-Evolution
We will continue to be a company that evolves of its own volition, by forming an organization that flexibly adapts to changes in the operating environment, and incorporates corporate "Ingenuity" and "Self-transformation" as part of its organizational DNA.
Fulfill Social Responsibility
We will ensure that each company in the SBI Group recognizes its social responsibilities as a member of society, while fulfilling the demands of its stakeholders, and contributing to the betterment of society.