Convenience Store Remittance
This remittance service is recommended for customers who are too busy during the week or those who do not have access to a bank account.

Service Process
1

Remittance Requests from SBI Remit's Member Portal

Select 'deposit funds at a convenience store' from the remittance options in the member portal.
Once the remittance request is received, a Convenience Store Order Number (a 5 + 12 digit number) will appear. Take note of the operating procedures for FamiPort terminals and the Convenience Store Order Number and proceed to a FamilyMart location.

*The Convenience Store Order Number is a total of 17 digits, made up of a 5 digit company code (20020) and a 12 digit order number.
2

FamiPort Terminal Operations FamiPort Operating Procedures

Select SBI Remit from the "International Remittance" option on the FamiPort (multi-media station) in a FamilyMart location; then input your Convenience Store Order Number and print out your receipt (the FamiPort application ticket).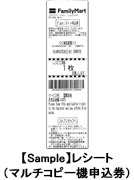 3

Making a payment at a FamilyMart checkout.

Present your receipt (FamiPort application ticket) at the checkout and make payment. Be sure to receive a copy of the Transaction Details and Receipt (customer copy) from the store staff.

*Payment is possible only in cash.
4

An e-mail is delivered after the remittance has been processed.

Funds are remitted in the specified currency once deposit fees and remittance fees have been deducted from the amount deposited.
Once these procedures have been completed, an email will be sent out informing you of the service charge, the conversion rate, the amount of money to be received locally and the Reference Number (RN).
5

Funds will be received by the remittance method specified

For cash pick-up, a Reference Number (RN) will be issued as soon as the remittance has been completed. Funds are available for pick-up as soon as the Reference Number (RN) is received.
Transfers to a bank account requires 1-3 business days for the remittance to be credited to the destination account.