Transfer to a bank account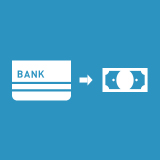 With this service, customers can receive funds in Japan sent from abroad via MoneyGram.
Member registration and a registered bank account are required to access this service.*
*This service is not available to individual customers without a Japanese bank account and corporate customers.
Service Process
Register the bank account to be used for withdrawal

Once your membership registration is complete, register the bank account to be used for withdrawal from the member portal.*
Member portal login> Member information> Change member's info> Search for Bank> Financial institution search> Select financial institution, branch office, account number and account name

*Please be sure to specify an individual whom is a member as the account holder. Note that your transfer may not be processed if incorrect bank account information is provided.

Obtain required remittance information for receiving from the party making the remittance request

To receive the remittance, the following information on the remittance request form is required.

Reference Number
Remitter information
Reason for remittance

To avoid errors, it is best to have a copy of the receipt taken by the requestor when sending a remittance.

Enter required items on the Receiving Request form

Complete receiving procedures by logging into the member portal and filling out the remittance request information on the Receiving Request form.

Transfers to the withdrawal account

Funds are transferred to the withdrawal account for each transaction. The transfer fee is the same as the withdrawal fee. Note that multiple transfers attract separate transfer fees for each transaction.
Receiving procedures completed by 15:00(JST) on a banking business day, will be credited on the next business day.