Online Remittance
A very convenient remittance method; customers deposit funds into a reserve account – and then simply specify the recipient and the amount for each remittance within the member portal.

Service process
1

How to deposit funds into the reserve account

Once you have registered for membership, you are asked to transfer funds for remittance(s) from an account in your name to a Reserve Account designated by SBI Remit.
Please make sure that the deposited funds are showing in the Reserve Account.
If the deposit is made during banking business hours, the funds should show in around 30 minutes. If the deposit is made outside of banking hours, then the deposit will show on the next business day.

About other deposit methods

You can make deposits by using Deposit Card at Japan Post Bank ATMs and Lawson Bank ATMs nationwide.

Cards are issued free of charge.

Click "Open" button to check how to deposit at an ATM.

Japan Post Bank ATM Manual Open Close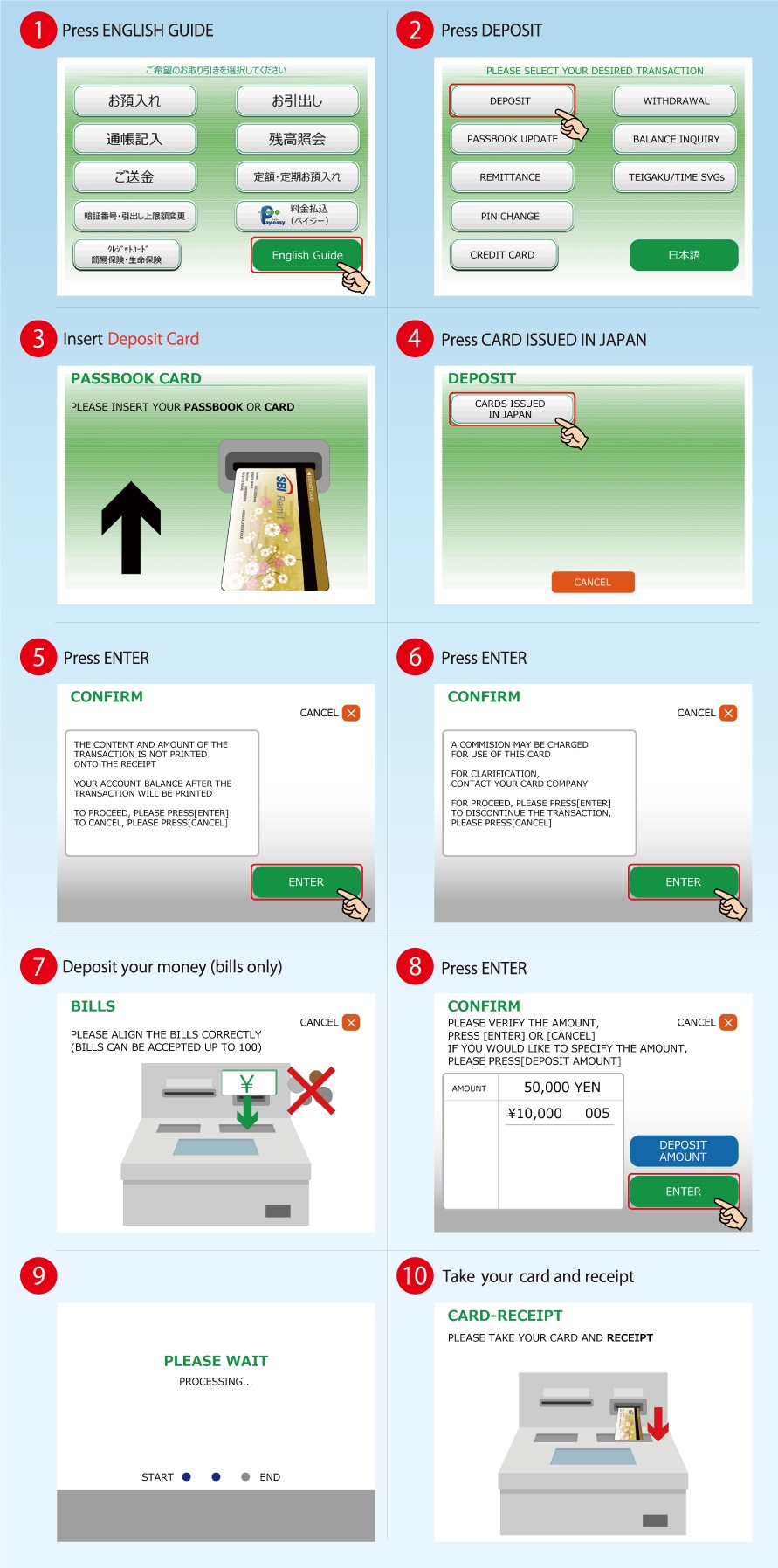 Lawson Bank ATM Manual Open Close
You can find the nearest ATM on the Lawson Bank website.
2

Remittance requests using SBI Remit's member portal

After member registration, customers can transfer funds from their bank account to the Reserve Account.
Please make sure that the correct deposit amount is reflected in your Reserve Account balance.
When requesting a remittance from the member portal, choose the amount of funds you wish to remit from the balance of the Reserve Account. (This service is available 24 hours a day, 365 days a year.)
3

Funds will be received by the remittance method specified.

If funds are to be picked up in cash, a Reference Number (RN) will be issued once the remittance has been completed. At this point, the funds will be available for collection.
If funds are to be remitted to a bank account, it will take 0-2 business days for the credit to appear.