Information/Campaigns
2021/06/16
SBI Remit Ranks No. 1 in Users' Recommended International Money Transfer Service
SBI Remit Co., Ltd (Head office: Minato-ku, Tokyo, Representative Director: Nobuo Ando, hereinafter "SBI Remit"), an international money transfer service business operator and a subsidiary of SBI FinTech Solutions Co., Ltd., a total FinTech solution company, announces that SBI Remit ranked No.1 in the category of "User's recommended international money transfer service" conducted via online research by Japan Consumer Research.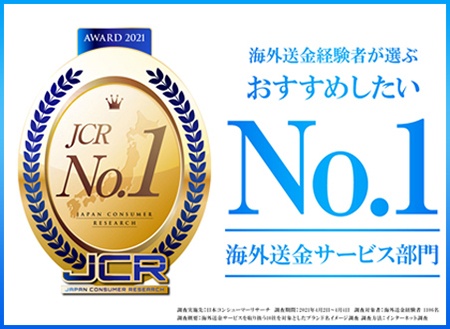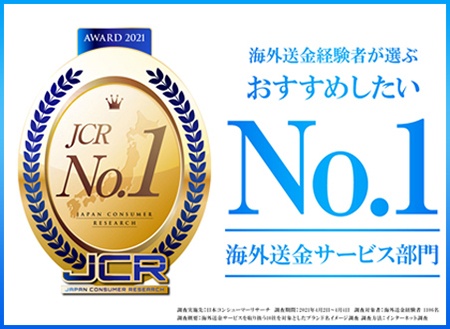 Since its launch in April 2010, SBI Remit has sequentially adopted a money transfer service utilizing Distributed Ledger Technology with featuring speediness and reasonable fee let alone security, multilingual website (12 languages) and customer support enhancement such as handling inquiries for each language (e-mail, telephone, SNS), for secure and convenient money transfer environment provision to foreign residents in Japan by utilizing the latest financial technologies.
Also, as part of the SBI Group's initiatives for regional vitalization through alliances with local financial institutions, SBI Remit has been actively pursuing financial business partnerships with regional firms to strengthen its ability to provide ever more convenient services to users and to more effectively respond to the overseas remittance needs of Japanese businesses and study abroad students, as well as those of foreign workers, who are a valuable workforce for regional economies.
Believing that the result of this survey is a testament to the customers' recognition for the company's efforts, SBI Remit will continue to strive for "new value provision" and "realization of customer centric principle" in order to respond further to the customers' needs.
Survey outline
Conducted by : Japan Consumer Research
Period    : April 2-4, 2021
Format    : Online
Description  : Brand perception survey focused on 10 firms that provide international money transfer services
Respondents : 1,106 persons who have sent funds abroad from Japan in the past
*********************************************
Enquiries: SBI Remit Customer Support Center
03-5652-6759 (English, Tagalog)
Reception Hours
Weekdays 08:00–22:00
Weekends and national holidays 12:00-21:00
(excluding New Year and vacation dates set by SBI Remit)
************************
Enquiries: SBI Remit Customer Support Center
Reception Hours
Weekdays 08:00–22:00
Weekends and national holidays 12:00-21:00
(excluding New Year and vacation dates set by SBI Remit)
Back to Information/Campaigns