Information/Campaigns
2020/07/22
SBI Remit's International Money Transfer Service Provision in Partnership with MICHINOKU BANK
SBI Remit Co., Ltd (Head office: Minato-ku, Tokyo, Representative Director: Nobuo Ando, hereinafter "SBI Remit"), an international money transfer service business operator and a subsidiary of SBI FinTech Solutions Co., Ltd., a total FinTech solution company, announces that a business partnership agreement with The Michinoku Bank, Ltd. (Head office: Aomori-shi, Aomori, President: Takayuki Fujisawa, hereinafter "Michinoku Bank ") in regard to member referral of international money transfer services that SBI Remit provides.

■Background and Purpose
With backdrop of the decrease in productive age population and labor shortage because of declining birthrate and aging society, the number of foreign workers increases year by year and presence of foreign workers in the labor market is steadily increasing, taking about 60% (*2) of 2,930,000 foreign residents (*1) as of the end of 2019. Their role in regional economy as an important working force increases and high expectations are placed on the foreign workers in Aomori prefecture in order to make up for the labor shortage.
However, immigration restriction continues towards many countries due to recent COVID-19 infection spread and it causes serious labor shortages including agriculture, forestry and fishery industries in Japan. The government revealed its plan to ease the immigration restriction step by taking steps towards such situation, thus it is expected to proceed with stable acceptance of foreign residents and foreign workers, and they will increase in the medium- and long-term.
Setting financial services provision centering on money transfer service to the foreign residents as its mission, SBI Remit innovates new financial technologies proactively such as money transfer utilizing US Ripple's DLT and extended its money transfer records providing high convenience money transfer services.
On the other hand, Michinoku Bank operates 94 branches (including 2 sub-branches) mainly in Aomori prefecture and has gained trust from the regional society and built strong network over the years. The regional companies have about 4,000 foreign workers (*3), mainly technical interns from various countries including Vietnam, China and Philippines, therefore the needs for money transfers to their hometowns are expected.
Under these circumstances, making use of mutual networks and know-how that both parties have Michinoku Bank can provide value-added service that meets its customer's needs and SBI Remit to develop new sales channel, so this partnership is formed.
SBI Remit continues to put customers' needs first and strives for "new value provision" and "realization of customer centric principle" through high-convenience and secure money transfer service development taking advantage of leading-edge financial technology.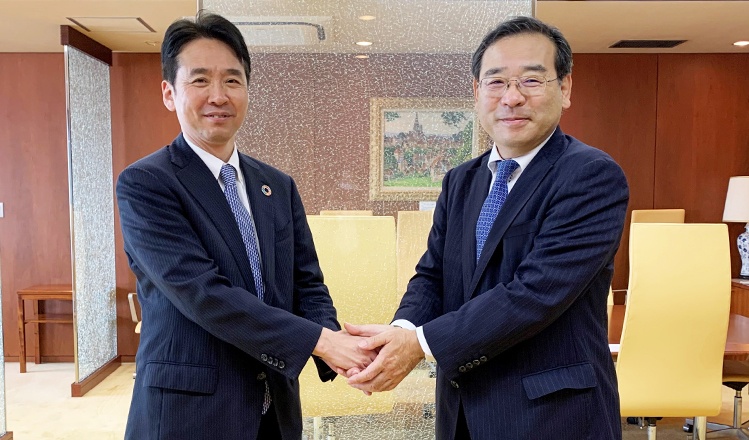 From left, Takayuki Fujisawa, President of Michinoku Bank and Nobuo Ando, Representative Director of SBI Remit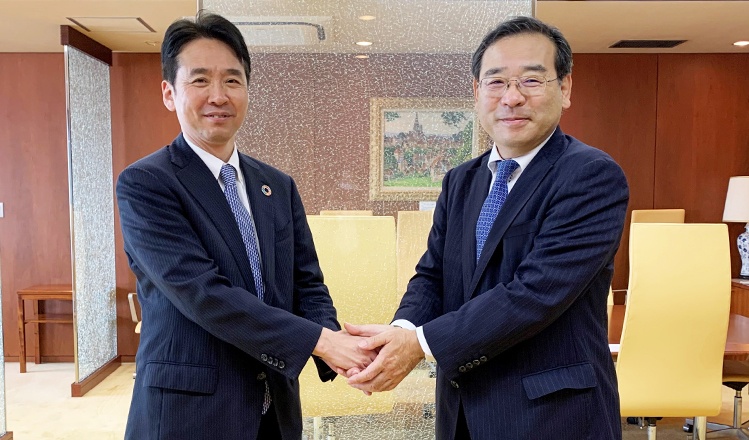 From left, Takayuki Fujisawa, President of Michinoku Bank and Nobuo Ando, Representative Director of SBI Remit
◼ About SBI Remit
Company Name : SBI Remit Co., Ltd.
Head Office : 1-6-1 Roppongi, Minato-ku, Tokyo
Established : August 2010
Representative : Representative Director Nobuo Ando
Capital : JPY 50 million
Business Outline : International money transfer service
URL : https://www.remit.co.jp/
◼ About Michinoku BANK
Company Name : The Michinoku Bank, Ltd.
Head Office : 1-3-1 Katta, Aomori-shi, Aomori
Established : October 1921
Representative : President Takayuki Fujisawa
Capital : JPY 36,986 million
Business Outline : Banking
URL : https://www.michinokubank.co.jp/
(*1) The Ministry of Justice: Number of foreign residents in Japan as of the end of 2019
http://www.moj.go.jp/nyuukokukanri/kouhou/nyuukokukanri04_00003.html
(*2) Ministry of Health, Labor and Welfare: Filing state summary of "Employment Situation of Foreigners" (as of the end of October 2019)
https://www.mhlw.go.jp/stf/newpage_09109.html
(*3) Ministry of Health, Labour and Welfare, Aomori Labour Bureau: Submission status of "Employment status of foreign workers"-form in Aomori (As of the end of October 2019)
https://jsite.mhlw.go.jp/aomori-roudoukyoku/content/contents/R2gaikokujinkoyojokyo.pdf
*******************************************
Enquiries: SBI Remit Customer Support Center
03-5652-6759 (English,Tagalog)
Reception Hours
Weekdays 08:00–22:00
Weekends and national holidays 12:00-21:00
(excluding New Year and vacation dates set by SBI Remit)
Back to Information/Campaigns